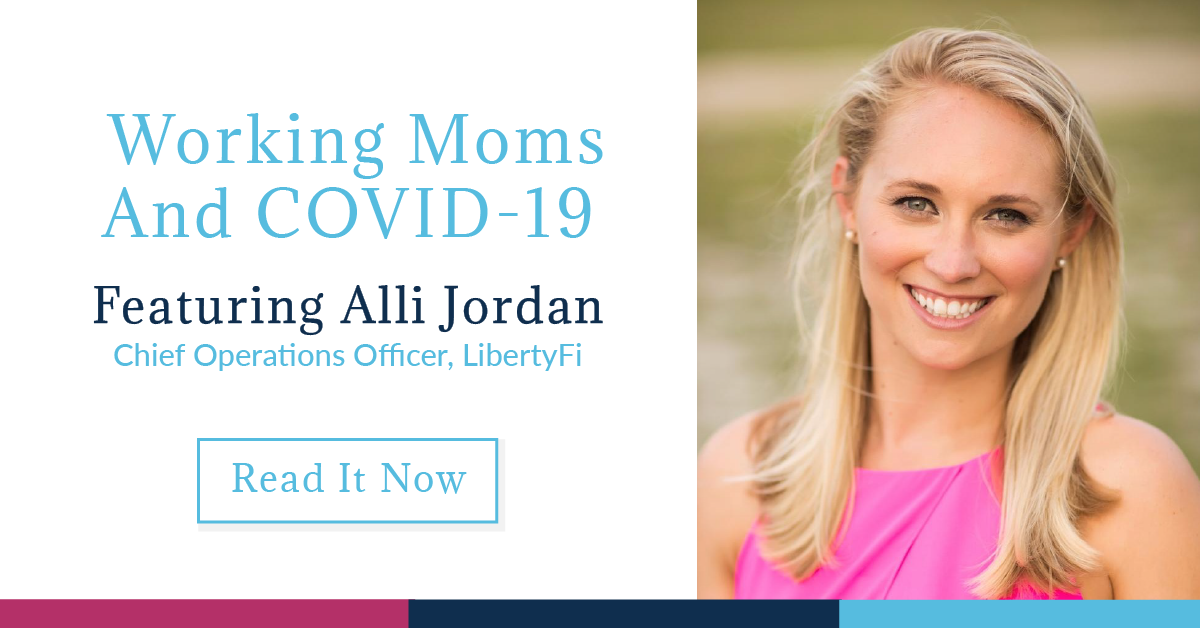 The widespread impact of COVID-19 on people, both personally and professionally, is undeniable. What's not being talked about enough is the impact specifically on working mothers. Graham Media Partners is a largely female-driven organization. We strongly believe in supporting women however we can, whether through employment, mentoring, charitable giving, or beyond. In a series of blog posts with our employees, partners, clients, and friends, we're highlighting the situations and emotions that many moms are navigating every day—while continuing to advance their careers. We hope this sheds light on the strength of women, while illuminating the support and compassion they deserve.
Many thanks to today's guest author, Alli Jordan, Chief Operations Officer, LibertyFi. Alli has spent the pandemic with her husband, Michael, and their 9-month old, Annie.
I have a 9-month-old daughter. If you do some quick math, you can imagine my year. I gave birth in December 2019. Then I took leave. Headed into March, I was gearing myself up to return to work full-time and for Annie to start school. That was supposed to happen on April first. Guess what? It didn't. Prior to that, in mid-March, I was supposed to take my first post-leave, work-related trip to New York. No surprise—that didn't happen either.
I had really pumped myself up for my return to work. I was ready to go! I was excited and anxious and stressed … without COVID-19. I was already navigating first-time motherhood and a transition back to work; COVID threw my family for a loop.
Instead of heading back to the office, my husband and I set up shop in our guest bedroom. We worked side-by-side with our dual monitors, flanked by our Peloton. The shared space was difficult, but that was a period of time I would not trade for the world. I already miss walking in and seeing Annie and my husband reading a book in between calls.
Like many parents, Michael and I were trying to care for our baby and work full-time. We were barely leaving our house. We didn't want to see local family and friends because the impact of the virus on babies was largely unknown in the beginning. So, it was just us.
It has been challenging in every way.
Are there benefits? Yes! The biggest of which is that I've been able to spend time with Annie that wouldn't have been possible otherwise. I have enjoyed that immensely. And, luckily, she's a great baby and she takes good naps—key for taking phone calls and having some uninterrupted work time.
I have to admit, though, that I feel like I've been continually operating at 80 percent when it comes to … everything. I know it can be hard for new moms to re-integrate into the workplace, and I believe COVID has made it even more difficult. Nothing ever seems to be completely "done." The days feel like they don't really ever start (or end) or follow any kind of routine.
Our daughter was able to start school in June, and while there was some initial guilt about the decision, it's been a relief. Of course, they're open for fewer hours each day, so I'm still trying to condense my work into a shorter time period. I often find myself working at night, alongside my husband, scheduling emails to send later so that the recipients don't feel obligated to reply to me just because I happen to be catching up. And, did Annie recently catch a cold that panicked me and my husband and led to negative COVID tests? Yes!
Things are getting better. I'm learning to compartmentalize my time. I've outsourced as much as possible, and I'll ask for help to give myself more hours back in the day. While this has been a stressful time, I have had the support of a great team that includes my coworkers, our clients, and my wonderful husband. They've made it all doable—at least "treading water" doable.
Right now, I'm making the best decisions I can with the information I have and the circumstances we're in. I know it will all be okay, but right now? It is what it is.
Read previous blogs in this series from:

ADDRESS
123 Bloomingdale Avenue
Suite 201
Wayne, PA 19087