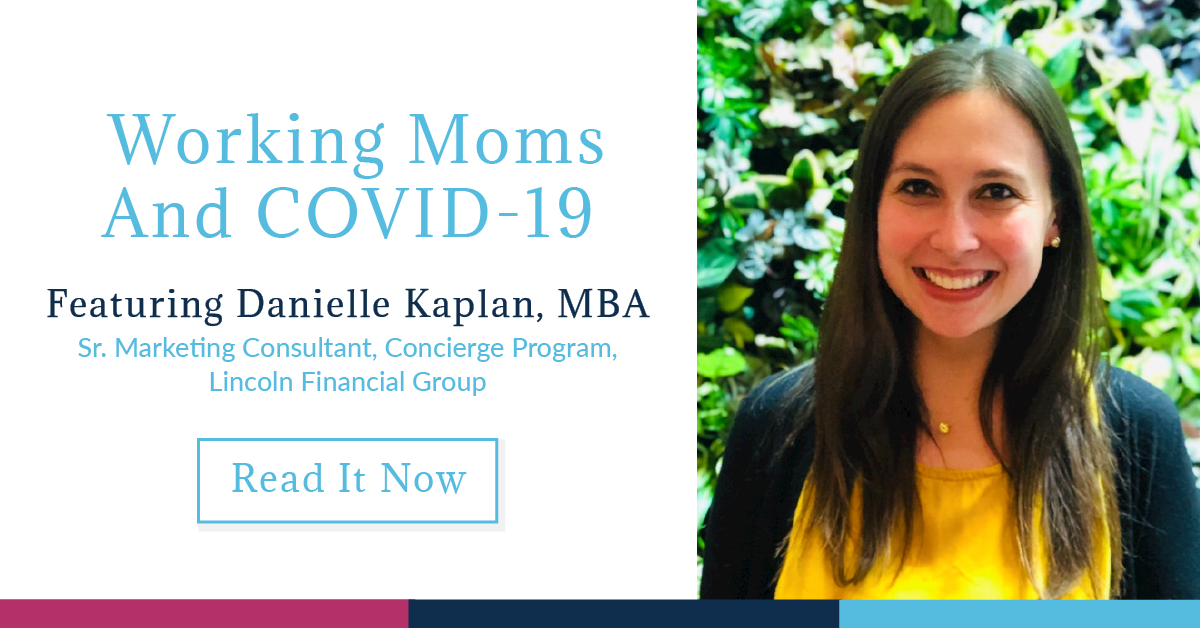 The widespread impact of COVID-19 on people, both personally and professionally, is undeniable. What's not being talked about enough is the impact specifically on working mothers. Graham Media Partners is a largely female-driven organization. We strongly believe in supporting women however we can, whether through employment, mentoring, charitable giving, or beyond. In a series of blog posts with our employees, partners, clients, and friends, we're highlighting the situations and emotions that many moms are navigating every day – while continuing to advance their careers. We hope this sheds light on the strength of women, while illuminating the support and compassion they deserve.
Many thanks to today's guest author, Danielle Kaplan, Senior Marketing Consultant, Concierge Program, Lincoln Financial Network. Danielle's been living through the pandemic with her husband and 2 kids, ages 3 and 5.
Working moms are having a moment right now. I'm sure you've seen the headlines:
There's no shortage of opinions about the impact this unpredictable time is having on mothers. Unpredictability is the key word here. Most parents, especially moms, are so accustomed to our routines that we're completely shook when the comfort of predictability fades. I know I was.
Like many, I have been quarantined since early March due to the spread of COVID-19. For the last five years, I have relied on and entrusted my two children to a childcare service while my husband and I worked a typical 40-hour work week. I acknowledge that we are privileged to be able to have this support structure. This has vastly contributed to the growth and development of my children, and even nurtured them through tough days. Early on, when states were still in the shelter-in-place phase, I lost the privilege of childcare services.
Nothing has humbled me more – the loss of childcare – and its effect on both my children's lives and my own.
My three- and five-year old have an obvious need for dedicated attention, fresh air, socialization, and energy exertion beyond the walls of my home. The inherent lack of those things has led to just a few of the emotional and physical side effects we're witnessing.
The unfortunate timing of my husband's job loss in April and transition into a new career was incredibly emotional for our family, bringing new challenges and demands on top of an already stressful environment.
The intersection between giving my children the attention and nurturing they crave while simultaneously meeting the expectations of my employer became a struggle. Although I am fortunate enough to have tenure, trust, and compassion from my company, it doesn't change the sense of guilt I feel when having to make tough choices about how I spend my days. Like choosing to step away from my computer when my son asks to blow bubbles outside – a request no mother can resist. Or my choice to take a Zoom call with an important client while hiding in a bathtub and listening to my son cry on the other side of the door because he wanted to proudly show me something he made.
But the show must go on, they say. Adapt. Pivot. Move on. It's amazing to witness how quickly the world continues to turn each day, even though there is incredible devastation, sadness, and helplessness surrounding us all, not just economically but personally as well. Business doesn't stop. Work doesn't stop. Innovation propels change. Or is it that change propels innovation?
As the headlines suggest, the unpredictability of this pandemic is testing working moms. But, contrary to what some of the headlines are suggesting, we will prevail, like we always do. And although we must make tough choices every day, unpredictability is no match for self-determination.
Read previous blogs in this series from:

ADDRESS
123 Bloomingdale Avenue
Suite 201
Wayne, PA 19087