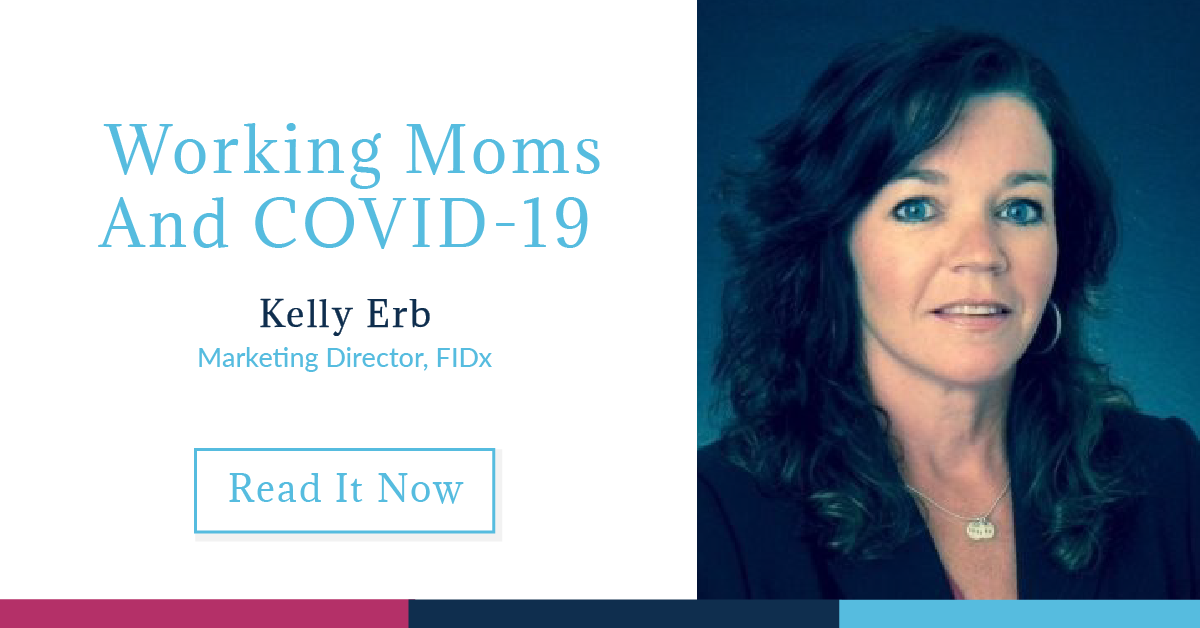 The widespread impact of COVID-19 on people, both personally and professionally, is undeniable. What's not being talked about enough is the impact specifically on working mothers. Graham Media Partners is a largely female-driven organization. We strongly believe in supporting women however we can, whether through employment, mentoring, charitable giving, or beyond. In a series of blog posts with our employees, partners, clients, and friends, we're highlighting the situations and emotions that many moms are navigating every day—while continuing to advance their careers. We hope this sheds light on the strength of women, while illuminating the support and compassion they deserve.
Many thanks to today's guest author, Kelly Erb, Marketing Director, FIDx. Kelly's been experiencing the pandemic with her husband and two kids.
There has been a lot of talk about the hardest part of being a working mother these days, most of them outlining the insurmountable challenges and a dire outlook for the impacts on us as a group. During this insane (let's put unprecedented to bed) time, there has been an overwhelming supply of opinions and conflicting perspectives, but a distinct shortage of answers and solutions.
Like many working moms, I am lucky to have a career with flexibility. My husband has a flexible work schedule and both of us are grateful to work for organizations that continue to operate and keep us employed during this time. I am even luckier for the fact that my kids are old enough to log in and attend their virtual classes on their own.
My struggle is not around time management or having to suddenly homeschool my kids—I cannot imagine what working moms with younger kids are facing, quite honestly. The biggest challenge for me right now is having no answers. How long will we be doing this? How will the end of this look? What is the impact on my career and my kids? We're all grasping and projecting, but if we're really being honest, none of us know.
My son is a sophomore this year. He can log into his classes and complete his online assignments without much assistance. But I constantly worry about him hiding out in his room while I'm working. What will the effects of this social isolation be for him and his classmates? How will his learning change through a virtual classroom? How much screen time is too much for these kids?
My daughter is a senior this year—a SENIOR! My 2021 grad is facing the loss of most, if not all, of the things that make a senior year special. SATs are on hold since March, most colleges have suspended in-person visits, and we are essentially on our own to figure out her next steps in life. She too, spends more time in her room when she isn't exploring colleges or working on her applications. What are the effects to her and her classmates who are trying to plan for success right now? Are we allowed to be mad at losing so many of the things we looked forward to when so many people are facing other kinds of losses?
As a parent, my job has always been to guide, protect, and provide for my kids. The uncomfortable part for me has been sitting with that uncertainty and the realization that I cannot do anything about it.
Both of my kids are in marching band at school, and we are fortunate to have dedicated band leaders who devised extensive safety protocol and guidelines to be able to give the kids a scaled-down version of marching band. At their practices, I have observed every kid wearing a mask, practicing social distancing, and adhering to every guideline put into place. Without a grumble or word of complaint, they just rolled with it. They already put on a socially distant show, spread out across the entire football field, without spectators, live-streamed (for the first time ever!) to thousands of viewers.
I keep thinking there's more than one lesson to be learned here. The most obvious is to take a page out of the kids' books and learn to roll with the changes, whatever they may be. I see the efforts made by the band as living proof that we can modify and adjust, even the seemingly impossible.
Mostly, the band exemplifies flexibility and adaptation. Finding new ways to approach and overcome challenges that we're all facing right now, working moms or not. Maybe we just need to remember that the band marches on.
Read previous blogs in this series from:

ADDRESS
123 Bloomingdale Avenue
Suite 201
Wayne, PA 19087