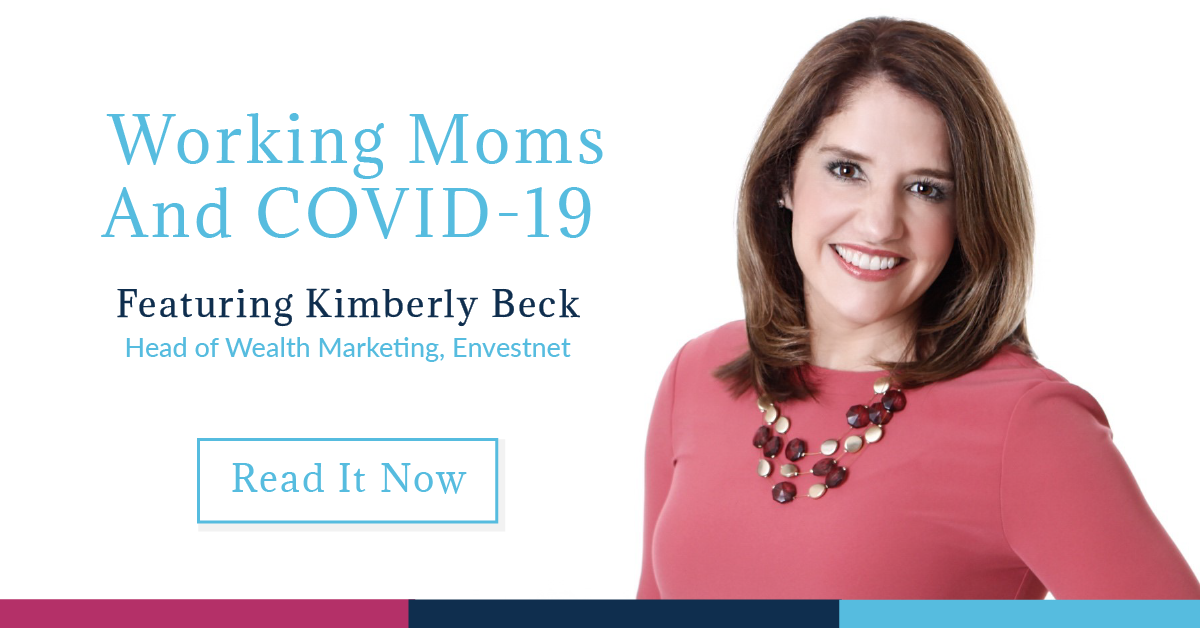 The widespread impact of COVID-19 on people, both personally and professionally, is undeniable. What's not being talked about enough is the impact specifically on working mothers. Graham Media Partners is a largely female-driven organization. We strongly believe in supporting women however we can, whether through employment, mentoring, charitable giving, or beyond. In a series of blog posts with our employees, partners, clients, and friends, we're highlighting the situations and emotions that many moms are navigating every day – while continuing to advance their careers. We hope this sheds light on the strength of women, while illuminating the support and compassion they deserve.
Many thanks to today's guest author, Kimberly Beck, Head of Wealth Marketing, Envestnet. Kimberly is navigating the pandemic at home with her husband, and their 4 children, ages 16, 15, 10, and 9.
The past 6 months have been … interesting. As we say goodbye to summer and prepare for the start of what should be another challenging school year, I'd like to confess to nine things that have defined my COVID existence—self-discoveries, realizations, and surprising admissions. Maybe you can relate.
1. The Remote Office: I envy the real offices I see on the many Zoom meetings I'm on. Organized set-ups. Often this fabulous invention called a door to shut the rest of the household out. Advanced degrees framed just so, perhaps complemented by a beautiful painting that holds some significant meaning to the person I'm talking to. My office, on the other hand, is a prime spot at my dining room table. In the background, you see knick-knacks and mismatched china, accented by one of the many Lego creations my youngest son has made me to enhance my office environment. At any given moment, someone in my family is asking me to move so he or she can access the battery drawer hidden behind me to fuel any one of their electronic devices. The dining room has been good to me these past six months and also serves as the spot where I end up eating most of my meals. In reality, more meals are being consumed at the dining room table now than since we moved into our house. I think it finally feels loved.
2. The Zoom Meeting Backdrop: Listen, I haven't figured this one out. I wish my Zoom background made it look like I was at a beach resort with the underlying insinuation that people are serving me umbrella cocktails off-camera. Instead, my background is based on where I'm least likely to be interrupted and still have decent lighting. One such location is my porch. If you're lucky to join me at this location via video, you might get to see my retired neighbor George in the background. I often think he waits to hop on his tractor until he sees me out there. There he is … tank top, knee-high socks with shorts and sandals, mowing his lawn in a pattern that I can only describe as aimless. When that happens, I resort to my inside Zoom location at the Beck Manor Living Room Bar. This location works particularly well for end-of-the-day meetings. Enough said.
3. The Morning Coffee: Pre-COVID, I would wake up at 5 a.m., quickly slug down a cup of coffee before my workout, drink one more as I got ready for the workday ahead, and then take a third cup to go, with no opportunity to take in what was going on around me. During COVID, one of my favorite, and slowest, parts of the day is sitting at my kitchen table with my coffee and taking in the scenery outside. I watch the interactive game the birds, the squirrel, and the deer all play to get the food from the bird feeders. I recently realized that I am constantly scheming to keep the squirrels out:
– Vaseline on the pole leading up to the bird feeder … check.
– Soaking the pole with Liquid Wrench spray to increase slippage … check.
– Amazon purchase of baffle attached to bird feeder … check … but didn't work as well.
– Sending dogs out to scare them away … most effective technique … every time.
4. Getting Ready for a Day at Home: In the early days of COVID, I admit to staying in my pajamas past a respectable time of the morning. I welcomed the time and money I was saving on not doing my hair or make-up each day. That all came to a crashing halt the morning I didn't realize my webcam was on, and I was looking at the little boxes on the Zoom meeting wondering who the older, homely looking woman on the meeting with us was. Needless to say, I now get up each day and do my hair and make-up. And honestly, I just have better energy throughout the day.
5. The Non-Commute: Gosh, how I used to dread my hour-and 15-minute commute to the office each way. Even longer if I was heading to the airport. Our offices were open for a brief period during COVID, and I have to admit, I welcomed the commute. To be able to sit in the car by myself with no one calling "Mom" or "Kimberly," and an excuse for why I was not checking or responding to texts and emails … it was liberating. My biggest dilemma was whether to tune into music or listen to a podcast. I ultimately went with music and zoned out … and even stopped for a Wawa coffee along the way.
6. Family Time: I thought I knew my children so well. And then I realized my boys would spend all day, every day watching YouTube videos of other people playing video games. Who does that? I could no longer stand to see them spend their days like that, so I introduced the family board game back into the mix. Some winners include: Ticket to Ride; Taco, Cat, Goat, Cheese, Pizza; and Monopoly Deal. Two things I learned:
– It is impossible to get four children to all agree on and enjoy the same game.
– They still prefer watching others play video games vs. playing board games with their family.
I'll continue my valiant effort though, and I welcome your family time ideas.
7. My Co-Workers: I don't think I realized how very much my work friends had become my "real" friends. Over the years, we have seen each other during highs and lows—from cheering one another on for a great presentation at a conference, to some fun dinners out together celebrating a career milestone, to 4 a.m. sweats-and-baseball-cap trips to the airport together. I didn't realize how much I draw energy from those around me, and how much the in-person interaction energizes me. I truly miss people.
8. My Family: Four kids, two adults, and two dogs. One roof. 24-7. All things considered, we have handled this really well as a family. And only one of us got banished—Thor got sent to doggie boot camp for a few weeks. My husband and I have gotten into a groove on the household duties. For the past two weeks, my efforts have focused on helping him distinguish between a bathroom hand towel and a kitchen towel—a detail I may have overlooked in the past because I was home so little. We have two teenagers, so there have been tears, door slams, and even claims that I am pretty awful. But I need to realize that while this has been tough on adults, it's been really difficult on kids too. I'm trying to practice more compassion and understanding, particularly as we are bracing ourselves for having four virtual learners in the house in a few weeks.
9. Our Tribe: As much as we like to credit ourselves for being strong, for plowing through, for adapting to this new way of life, we're all not OK. This has been an emotional rollercoaster, and I worry what a long winter holds, with fewer hours of sunlight, fewer opportunities for safe socialization and outdoor activities, and the extended psychological impact of an isolated world. In the beginning of this, I vowed to focus on what I can control, and try to let go of the things I can't. I have more work to do here. While I can't control sunrise and sunset, I can control what I do with those hours of sunshine. I can reach out to a neighbor who might need some fresh air and a walk, a co-worker who needs to talk about something else other than work. And maybe text a person I haven't spoken to in a while just to check in and make sure they are OK. I have a sign in my house that reads, "Find Your Tribe and Love Them Hard." It is times like these when that is more important than ever.
Read previous blogs in this series from:

ADDRESS
123 Bloomingdale Avenue
Suite 201
Wayne, PA 19087