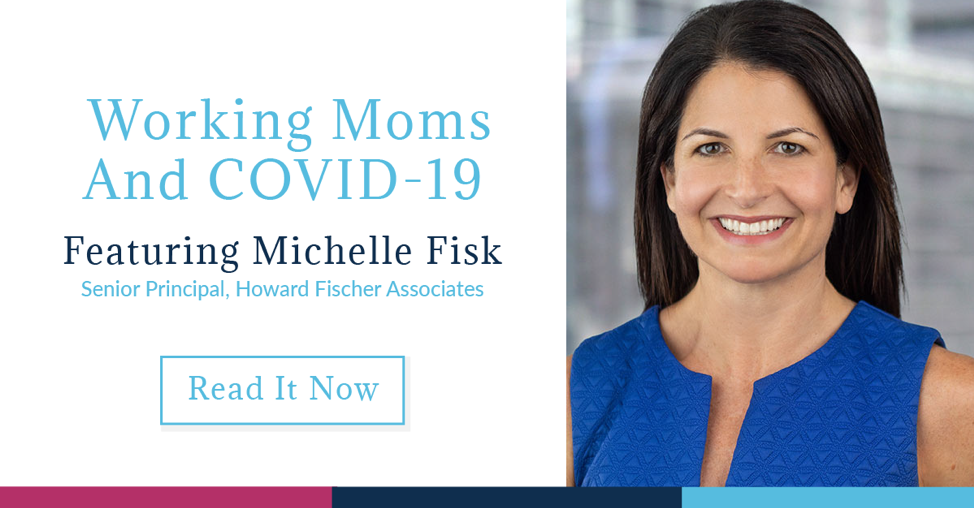 The widespread impact of COVID-19 on people, both personally and professionally, is undeniable. What's not being talked about enough is the impact specifically on working mothers. Graham Media Partners is a largely female-driven organization. We strongly believe in supporting women however we can, whether through employment, mentoring, charitable giving, or beyond. In a series of blog posts with our employees, partners, clients, and friends, we're highlighting the situations and emotions that many moms are navigating every day – while continuing to advance their careers. We hope this sheds light on the strength of women, while illuminating the support and compassion they deserve.
Many thanks to today's guest author, Michelle Fisk, Senior Principal, Howard Fischer Associates. Michelle, her husband, and their 3 children, ages 9, 11, and 14, have been surviving the pandemic together at home.
The COVID-19 pandemic has turned everyone's lives upside down. Some of those changes have been wonderful. Let's face it, before the pandemic, most of our evenings and weekends were filled with rushing home from work to get kids to their sports practices and sitting on the field and court sidelines all weekend long. We now sit down for dinner as a family almost every evening, which has been a complete blessing!
What concerns me the most and has given me the most anxiety over the last couple of weeks is how, as a working mother, I am now expected to be a homemaker, teacher, and successful employee once school starts in a few weeks. I am lucky because I have a husband where we have always had a 50/50 relationship when it comes to our children and our household. My husband does all the cooking and everything related to sports, and I do all the cleaning and everything related to school. It has honestly worked incredibly well and has allowed us both to be successful in our careers. But when actual teaching became a household responsibility, virtual school inevitably fell into my lap. Not that my husband would not help, but the kids instinctively came to me for everything related to school.
So, in between work calls and videos, I was trying to describe perpendicular lines to my 9-year-old son and yelling at my 11-year-old daughter to actually turn on her Chromebook to see what was scheduled for the day. By the time I returned to my desk, I was so frustrated and worried that my kids were failing "virtual school" that I could not concentrate on the work in front of me.
While my 14-year old son was our saving grace in being able to independently complete his virtual schoolwork every day, he also had ample time to binge watch every episode of Family Guy. We were lucky to have decent weather over the spring, which allowed them to spend considerable time outside playing basketball, bike riding and all the great things we did as kids, but I have to be honest and say the time they spent on their electronic devices was frightening.
Suffice it to say, the spring semester of school was a disaster, but we plowed through, thinking it was going to be a short-term hurdle. While our school board initially voted to have kids return under a hybrid model, which was already daunting because my kids would be on different schedules at two different schools, the School Board just voted to continue virtual school until at least October 9th.
Our kids will be starting 4th grade, 6th grade, and 8th grade (all pinnacle and transitional years in their educational and social development), and I can only imagine how continuing virtual school is going to affect them all emotionally and intellectually … and how it is going to affect my work. Of course, I then feel guilty that I am even worried about my work when my kids should be the most important concern right now.
But my fears are justified when I start reading the headlines in the Wall Street Journal and other news sites that say things like, "Opening economies without schooling and childcare is a 'recipe for a generational wipeout of mothers' careers'." The schedule for working mothers is unsustainable during this pandemic, and the grim statistics on working mothers is glaring:
Because of traditional gender roles and pay disparities, many women find themselves in tough positions when considering childcare and their careers.
Women are leaving the workforce at a slightly higher rate than men.
Because their male partners earn more, some women feel forced to sacrifice their own career goals.
Women are doing far more domestic labor than men during the pandemic.
I count myself as incredibly fortunate because I have a job that I can easily do from my home. I also have a very accommodating and flexible employer that appreciates the balancing act that many of the working mothers in our offices are currently managing. All that said, the pressure we working mothers put on ourselves to be the best parents and best employees has put us in a tough spot, especially with the added responsibility of homeschooling.
Most working mothers have been successful because they are able to compartmentalize work and home life, but it is hard to compartmentalize the two when they are both happening simultaneously under the same roof. I worry greatly about the amazing working mothers out there whose employers are not as flexible, or the nature of their work does not allow them to transition so easily to working from home. These are the people who will be the victims of the statistics above.
I consider myself a pretty positive person, and I can only be optimistic that this remote or hybrid return to school will only last through the end of the year. I will continue to be grateful for the little things, like potentially apple picking this fall – something we have never had time to do before!
Disclaimer: I 100% appreciate and respect the viewpoints of teachers, school administrators, medical professionals, and everyone else that has been making the tough back-to-school decisions based on the pandemic. This is just the viewpoint of a working mother. ?
Read previous blogs in this series from:

ADDRESS
123 Bloomingdale Avenue
Suite 201
Wayne, PA 19087