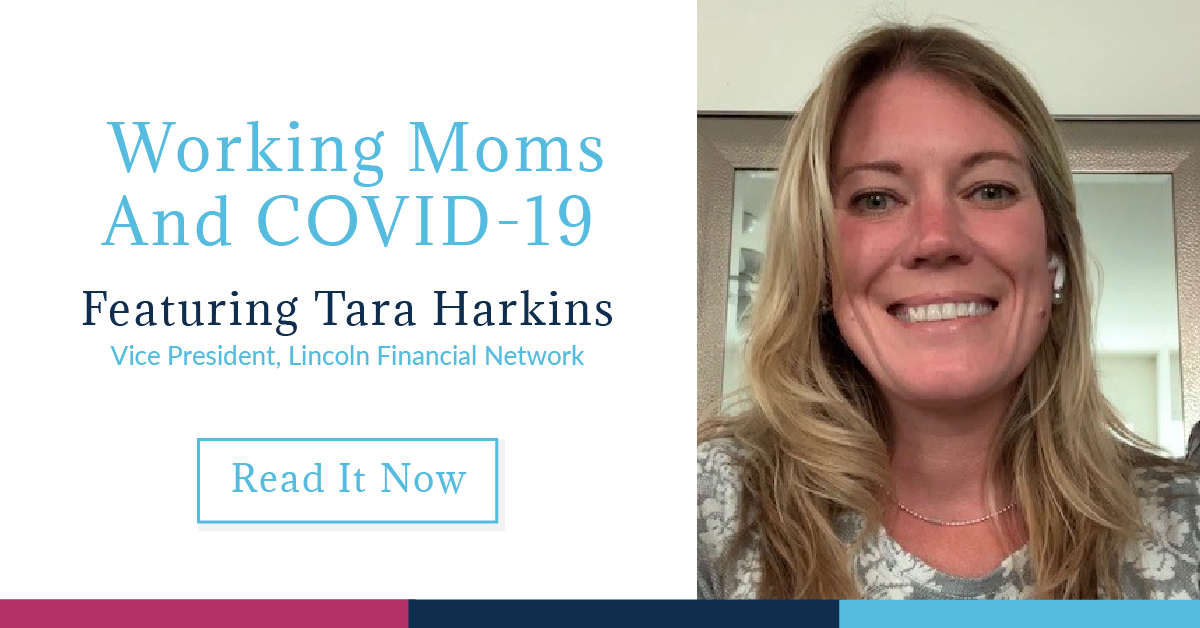 The widespread impact of COVID-19 on people, both personally and professionally, is undeniable. What's not being talked about enough is the impact specifically on working mothers. Graham Media Partners is a largely female-driven organization. We strongly believe in supporting women however we can, whether through employment, mentoring, charitable giving, or beyond. In a series of blog posts with our employees, partners, clients, and friends, we're highlighting the situations and emotions that many moms are navigating every day – while continuing to advance their careers. We hope this sheds light on the strength of women, while illuminating the support and compassion they deserve.
Many thanks to today's guest author, Tara Harkins, Vice President, Lincoln Financial Network. Tara's riding out the pandemic with her fiancé and 5 kids, ages 11 through 16.
My ability to go on and off mute has officially become Olympian level. Who knew I could put my hands in front of my mouth to answer kid questions, still listen and actively participate in video conferences, while responding to insane volumes of emails all at once?
I am hearing more and more that while we are interacting with each other virtually, the level of engagement has declined. For me, not so much. I THRIVE in this environment. I went from an hour-and-a-half commute each way to work, to playing a much more rewarding role in my kids' daily lives. And while I may complain at times about all the cooking, cleaning, and driving them here and there, it feels really good.
Now, that is one side of the story. The other side is … what time is it? Just give me 30 more minutes and I promise I will come to bed by 11:30 after I finish up this one last thing for work. I think my superhero quality is to find a way to live in controlled chaos being with the people I love. So, like I said, I was built for this.
I have been able to accomplish so many things professionally being home, all while having the chance to do things I couldn't before – walk the dog in the middle of the day, go for runs, shower in between meetings, and COOK difficult, yet delicious, meals!
There have been plenty of times I've considered abandoning my family. That's just part of this amazing challenge of being together all the time with four teenagers and one pre-teen. One thing I have found such joy in has been the opportunity for my kids to see true work ethic. They see me and my fiancée (we had to delay our wedding like everyone else, but not so dramatic because it's our second time) working hard, on endless meetings, hearing us problem solve and communicate effectively with our co-workers and clients. This is our chance to teach the next generation that work is hard. The rewards, however, are great.
So, how am I feeling through all of this? Great, awful, stressed, chaotic, meaningful, balanced, unbalanced, exhausted, well-rested, mom of the year, worst mom on the planet, and soooo ready for school to be back in session.
I will finish with one tip a female advisor shared with me. It is lifechanging in this work-from-home world. Download Krisp. It's free if you stay under a certain amount of time per month. You can use it to dial into meetings and it blocks out background noise. When I have very important meetings, am leading large events, etc., this app has become my best friend.
We're all in this together!

ADDRESS
123 Bloomingdale Avenue
Suite 201
Wayne, PA 19087